Made in Berlin-Buch
Excellent basic and clinical research in biomedicine and world-class biotechnology are hallmarks of Campus Berlin-Buch. The objective is to translate scientific findings as rapidly as possible in order to develop new treatments and diagnostic methods.
"Made in Buch" stands for high quality and innovation in the life sciences.
MRI.TOOLS GmbH: EasyACT -Triggering/Gating Device for MRI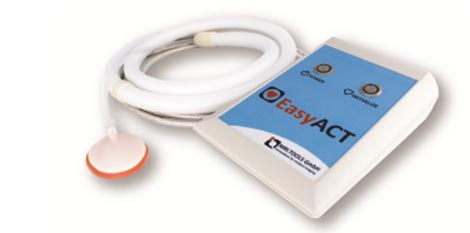 Precise images of the beating heart
Advanced cross-sectional imaging techniques such as CT, MRI or PET are not optimal for cardiac imaging, because of the blurring effect of rapid heart movements. Moreover, these techniques are not capable of providing real-time images. MRI.TOOLS has developed an innovative device called EasyACT which synchronizes the images based on the phonocardiogram.
Because it functions acoustically, interactions with magnetic fields and heat risks as well as shadows in CT or PET imaging can be avoided.
The principle: The heart sounds are registered with a stethoscope, evaluated, and the information is passed on to the imaging devices.
The original idea comes from the group of Professor Niendorf of the Max Delbrück Center for Molecular Medicine. MRI.TOOLS GmbH was founded in autumn 2010 to transform the idea into a marketable product. In October 2011 the device was certified for use in clinical practice.
www.mritools.com
Eckert & Ziegler BEBIG: IsoSeed ®
Targeted, gentle treatment of prostate cancer
Prostate cancer is one of the most common types of cancer in men. In Europe alone there are approximately 135,000 new cases annually. Brachytherapy has proved to be a highly effective and very gentle form of treatment for early-stage prostate cancer. Using a needle, millimeter-sized, low-level radioactive implants (seeds) are placed in a targeted area of the prostate. They provide optimal dose distribution in the irradiated tissue with minimal adverse effects on the surrounding organs.
LDR brachytherapy is highly effective, well tolerated, and is characterized by a short treatment time and a relatively fast physical recovery. LDR brachytherapy with medical products from Eckert & Ziegler BEBIG as IsoSeed® (individual seeds) or IsoCord® (seed chains) has been successfully performed in clinical practice for more than ten years.
Eckert & Ziegler BEBIG is the European leader in the field of permanent seed implantation and the world's only provider of the complete range of brachytherapy products.
www.ezag.de
T-knife: Tumorzellen gezielt aufspüren
T-knife entwickelt eine der ersten T-Zellrezeptor-Gentherapien
Das menschliche Immunsystem ist darauf trainiert, zwischen fremd und eigen zu unterscheiden und körperfremde Strukturen zu zerstören. Mit den Ankermolekülen (Rezeptoren) von sogenannten T Zellen erkennt es Antigene, zum Beispiel von Viren, und zerstört solche Eindringlinge gezielt. Krebszellen sind jedoch körpereigene Zellen, weshalb das Immunsystem sie nicht attackiert, sondern toleriert. Einem Forschungsteam um Prof. Thomas Blankenstein vom Max-Delbrück-Centrum für Molekulare Medizin in der Helmholtz-Gemeinschaft ist es gelungen, menschliche T Zellen gentechnisch so zu verändern, dass ihre Rezeptoren bestimmte Tumorzellen gezielt aufspüren und zerstören können. Damit wurden mehr als zehn Jahre Forschung vom Erfolg gekrönt. Das Start-up T-knife entwickelt nun auf dem Campus Berlin-Buch mit Hilfe dieser Technologie eine der ersten T-Zellrezeptor-Gentherapien in Deutschland.
aokin: Rapid Kinetic Assay
Accurate rapid test to detect toxins in food
Mold can ruin entire crops. Some mold metabolites are highly toxic, and if undetected in food, can be hazardous to health.
Does the food contain mold or is it mold-free? Until now producers and distributors – in particular of products containing nuts, coffee, fruit or grain –had to have their products analyzed in elaborate lab tests to answer this question.
Thanks to aokin this procedure can now be shortened. The Berlin-based company has developed a precision rapid test for this problem. The test enables the food industry to carry out a precise mold toxin analysis directly on site and in just a few minutes.
Now the product quality can be reliably assessed immediately upon import or receipt of the goods. Thus, the rapid test helps to reduce costs – and to improve consumer safety.
Glycotope GmbH: GlycoExpress ™
Innovative biotechnology in top form
For its GlycoExpressTM (GEX) technology platform the company Glycotope GmbH was awarded the Innovation Prize Berlin-Brandenburg in 2010. The technology platform is used to optimize biotechnologically produced drugs (biotherapeutics).
Through so-called "glycoengineering", i.e. the optimization of complex glucose chains attached to proteins, cell lines are produced that have excellent biotechnical properties. These are then used to develop and produce much improved drugs, e.g. antibodies for cancer therapy.
GLYCOTOPE is a leading technology and service provider in the fields of glycomics and immunotherapy. Alone in the three years from 2007 to 2010, during the development of its award-winning innovation GlycoExpressTM, the company increased its workforce on Campus Berlin Buch from 27 to 70 employees.