Construction projects on campus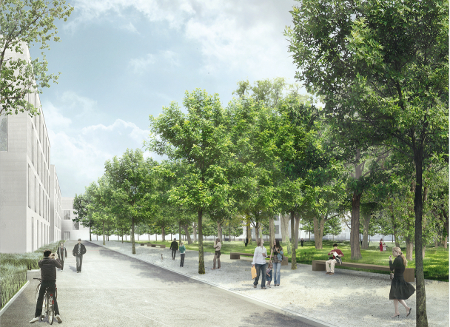 In the coming years the science and biotech campus will be expanded significantly. New institutes, various labs, an in vivo pathophysiology lab and buildings for companies will be constructed. Technology platforms also need to be extended. In particular, the infrastructure of the northern part of the Campus needs to be adapted and renewed. In the spring of 2010 an urban design and landscape planning competition took place on campus. The result was a future-oriented concept for the capital city region of Berlin-Brandenburg that will meet the high standards of excellence of a leading science and business location.
Figure: Entwurf der sinai - Gesellschaft von Landschaftsarchitekten mbH
BIH research building
MDC and BIH erect a new research facility for physicians, researchers and patients. The Käthe Beutler building will be completed in 2020.

Two old campus hospital buildings from the seventies will give way for a new research facility. The MDC, the Berlin Institute for Health (BIH), and the Charité – Universitätsmedizin Berlin raise the structure at Lindenberger Weg 80 as a new central site of the BIH. It will be named after Käthe Beutler, a Berlin paediatrician who fled from the Nazis in 1935.

Three plane trees in front of the site were already trimmed to protect them from damage during the demolition works. From September onwards, the old houses will be torn down and excavators will be lifting a pit. In February 2018, the two-year construction period of the new building begins. Once complete, 135 scientists from basic and clinical research, as well as doctors will work under a single roof.

A small cafeteria in the publicly-accessible entrance area of ​​the Käthe Beutler building will be open to all visitors and employees. By the end of 2019, the bus will stop right outside the doorway of the new building. At the moment, it is still stopping on the campus to serve the outpatient clinics.
BIH-Rechenzentrum
Für die Infrastruktur des Berliner Instituts für Gesundheitsforschung (Berlin Institute of Health/BIH) ist ein eigenes Rechenzentrum im südlichen Campusbereich entstanden, das 2015 in Betrieb genommen wurde. Hierfür stellte das BIH 2,1 Millionen Euro zur Verfügung. In diesem Rahmen wird der Campus auch eine redundante Anbindung an das Hochgeschwindigkeitsdatennetz der öffentlichen Wissenschaftseinrichtungen in Berlin erhalten.
Biobankgebäude/Liquid-Bio-Repository
Das Berliner Institut für Gesundheitsforschung/Berlin Institute of Health (BIH) hat 2016 an zwei Berliner Standorten, in Mitte und Buch, professionelle Biobanken errichtet. Sie verfügen über einen hohen Automatisierungsgrad, kontinuierliches Temperaturmonitoring, Datensicherheit und damit über eine ausgezeichnete Qualität an Proben. Diese hohe Qualität gehört zu den Schlüsselvoraussetzungen für eine international wettbewerbsfähige biomedizinische Forschung. Um molekulare Ursachen von Krankheiten erforschen zu können, benötigen die Forschenden geeignete Biomaterialien wie Blut, Urin und Gewebeproben sowie Behandlungsdaten.
Auf dem Campus Berlin-Buch werden künftig schwerpunktmäßig flüssige Proben von großen Patienten-Kohorten aufbewahrt. Am Charité Campus Virchow-Klinikum werden vor allem Biomaterialien aus der Krankenversorgung und klinischen Forschung gesammelt und gelagert. Die Proben aus beiden Standorten werden Forschungsprojekten des BIH zur Verfügung stehen. Insgesamt investierten BIH und MDC 3,8 Millionen Euro in die Errichtung des Biobankgebäudes/Liquid-Bio-Repository in Buch.
Abb.: Entwurf der Biobank auf dem Campus Berlin-Buch (HEIDE & VON BECKERATH)
Forschungseinrichtung experimentelle Medizin (FEM)
Am Campus Berlin Buch entsteht im Rahmen des Bau-Masterplans der Charité - Universitätsmedizin Berlin die Forschungseinrichtung experimentelle Medizin (FEM), die ein technisch veraltetes und stark sanierungsbedürftiges Tierhaus ersetzen wird. Die Baumaßnahme schließt ein gemeinsames Infrastrukturgebäude (ISG) mit ein, das in Kooperation mit dem Max-Delbrück-Centrum für Molekulare Medizin (MDC) errichtet wird. Der Neubau bietet mit 20.400 qm ausreichend Fläche für modernste und schonende Untersuchungsverfahren; insbesondere für bildgebende Verfahren wie Ultraschall und Magnet-Resonanz-Tomographie (MRT). Die Fertigstellung des Neubaus ist für 2017 geplant.
(Abb.: Heinle, Wischer und Partner, Freie Architekten)
In-vivo-Pathophysiologielabor (IPL)
Anfang 2015 hat der Bau des In-vivo-Pathophysiologielabors (IPL) auf dem Campus Berlin-Buch begonnen. Das IPL ist ein Ersatzneubau für ein älteres Tierhaus des Max-Delbrück-Centrums für Molekulare Medizin und wird Platz für 4.000 Maus- und Rattenkäfige beziehungsweise etwa 12.000 Tiere bieten. In dem Gebäude werden außerdem Laborräume entstehen. Das Hauptaugenmerk bei den Tierversuchen wird im IPL auf minimal-invasiven, also wenig belastenden Methoden liegen. Dazu zählen zum Beispiel modernste bildgebende Verfahren wie Magnetresonanztomografie oder PET-Scans. In das Bauprojekt fließen 24 Millionen Euro aus Zuwendungsmitteln des Bundes und des Landes; davon zehn Millionen Euro vom MDC. Die Fertigstellung ist für das Jahr 2017 geplant.
(Abb.: Doranth Post Architekten)
News

Buch Berlin
Phage capsid against influenza: perfectly fitting inhibitor prevents viral infection
Millions for cancer research
Understanding the Formation of Nerve Cell Contacts - Volker Haucke receives 2.5 Million Euros of Funding from the European Research Council (ERC)
Events

Buch Berlin
06.06.2020, 16:00


ENTFÄLLT: Die Lange Nacht der Wissenschaften: Die klügste Nacht des Jahres
26.08.2020, 09:00


Epigenetik und die große Frage: Beeinflusst die Umwelt unser Erbgut?

Die Epigenetik bietet konzeptionell neue Ansätze für das Verständnis genetischer Regulation von Entwicklungs- und Erkrankungs-Prozessen. Epigenetische Modifikationen spielen in Pflanzen, im Tier und i...

more ...