BiotechPark with Innovation- and Incubationscenter
Berlin-Buch, with its long tradition of excellent biomedical basic and clinical research as well as clinical expertise, is an ideal environment for life science companies. The campus atmosphere is conducive to scientific exchange, technology transfer and collaborative projects.

With an area of approximately 31,000 m², the BiotechPark Berlin-Buch is one of the largest biotech parks in Germany. Here entrepreneurs and companies find affordable, industry-specific laboratory and office space with state-of-the-art facilities. Start-ups can grow and thrive in the Innovation and Incubation Center, building areas on the Campus allow for future development. The managing company, Campus Berlin-Buch GmbH, supports the companies in all matters and provides comprehensive service.
Currently, approximately 61 companies are located on campus and employ around 800 people. Forty-four of these companies are in the biotech sector, several others offer services for the life science industry. Since 1998 the number of employees of the biotech companies has more than doubled.

The business fields of the companies range from medical technology products, molecular biological diagnostics and treatments, preclinical pharmacological and pharmacogenomic tests, RNA technologies, the search for pharma-relevant target molecules, production and testing of drugs and the analysis and synthesis of biomolecules.
From 2023 the new BerlinBioCube start-up center in BiotechPark Berlin-Buch will offer an additional 8,000 square meters of laboratory and office space and attractive services for start-ups in the fields of biotechnology and medical technology as well as adjacent areas.
"Made in Buch" stands for high quality and innovation in the life sciences. Selected products can be found here.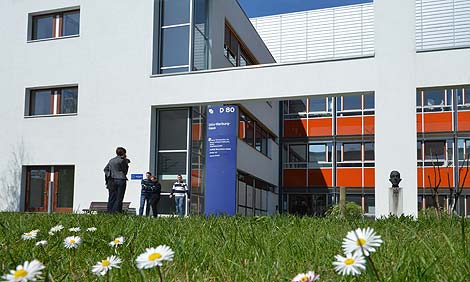 News

innovation
Eckert & Ziegler Acquires 53,000 Square Feet Facility for Expansion of Contract Development and Manufacturing Services
Nantes University Hospital Doses First Patients with Eckert & Ziegler's Novel Ga-68 Imaging Agent PENTIXAFOR
Eckert & Ziegler Starts Technetium-99 Delivery in Brazil
Events

Campus
08.11.2021, 09:00


Weiterbildungskurs: Fachkraft für Molekularbiologie (TÜV) vom 8. - 19. November 2021
22.11.2021, 15:00


VORLESUNGSREIHE "NEUE WEGE IN DER BIOMEDIZIN": Neues aus der Hirnforschung
30.11.2021, 16:00


VORLESUNG "Eine neue Arzneimittelklasse: Lebende Medikamente - wie Körperzellen heilen können"