Your selection
Research, Education / 05.04.2022


Science you can touch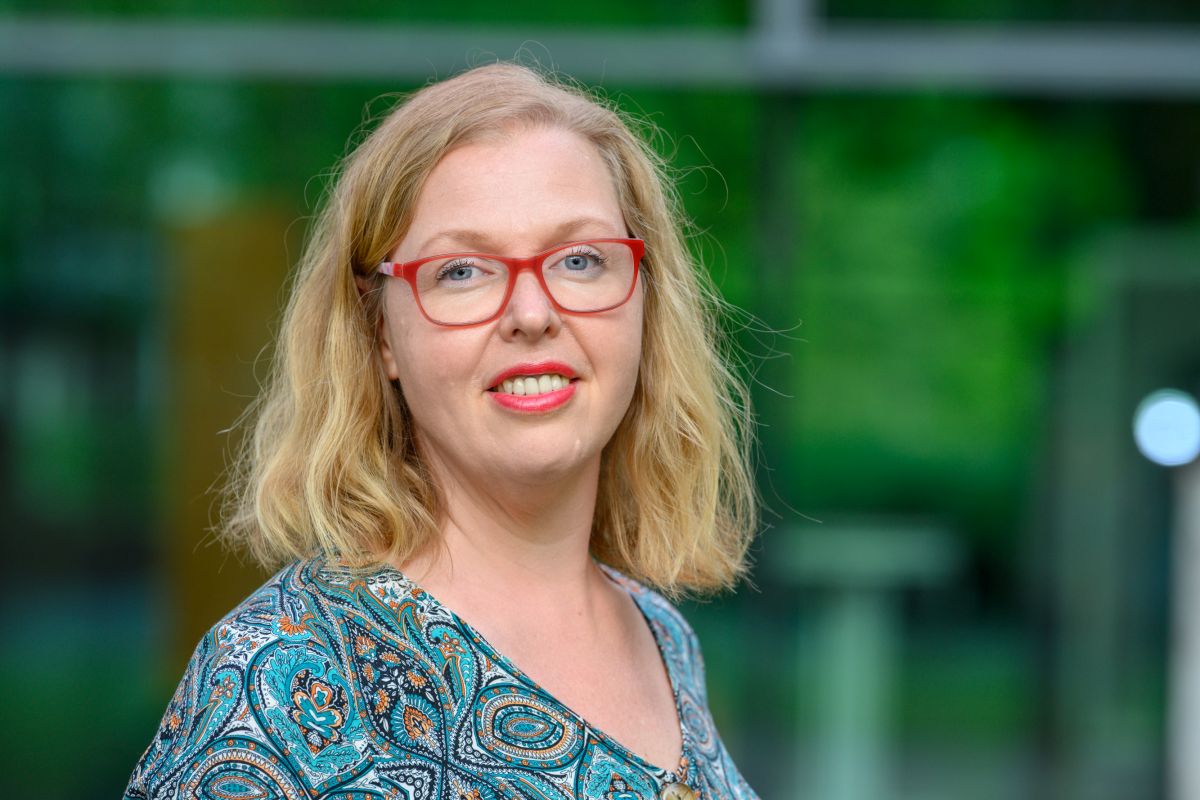 Claudia Jacob is a trained biologist who has a passion for explaining how things work. As head of the Life Science Learning Lab (Gläsernes Labor) on Campus Berlin-Buch, she gives schoolchildren a hands-on opportunity to explore the life sciences – from conducting lab experiments to discussing ideas with scientists – and perhaps even a chance to become a scientist themselves one day.
When she welcomes new participants to a neurobiology course, Claudia Jacob has the schoolchildren put on special glasses and then lets them play with various balls in the foyer of the Max Delbrück Communications Center. Laughter spreads rapidly through the group as they realize how awkward and clumsy they have become. The glasses change the angle of vision, making throwing and catching virtually impossible – this is what it feels like when our brains and nervous systems aren't working properly. "Starting the course with this activity sparks curiosity in the subject matter," Jacob says. She heads the Life Science Learning Lab (Gläsernes Labor), a youth education center at the science and biotechnology park Campus Berlin-Buch. It is run jointly by the Max Delbrück Center for Molecular Medicine in the Helmholtz Association (MDC), the Leibniz-Forschungsinstitut für Molekulare Pharmakologie (FMP) and Campus Berlin-Buch GmbH. The learning laboratory also receives support from numerous funding institutions and sponsors, including the campus-based company Eckert & Ziegler.
Jacob has led the Life Science Learning Lab since 2015. After training as a chemical-biological research assistant, she studied biology and environmental management. She financed her studies with a part-time position at Freie Universität Berlin. While working with younger students, Jacob noticed that she liked to explain things. So she became a lecturer – and eventually joined the Life Science Learning Lab, becoming its head in 2004. "The lab is a real gem," she says. In this interview, she explains why this is so.
Here schoolkids can learn to CRISPR
When was the Life Science Learning Lab launched?
Claudia Jacob: The Life Science Learning Lab opened its doors in 1999. The idea for the lab came from MDC founding director Prof. Detlev Ganten: It was originally conceived as an information center to keep the general public abreast of developments in genetic engineering and biotechnology. Scientists were to conduct experiments together with citizens, and explain to visitors what happens on Campus Berlin-Buch, what basic research is and how science works. However, teachers quickly expressed a need for opportunities to conduct extracurricular experiments. And so the Life Science Learning Lab soon became one of the largest student labs in Germany. Every year some 14,000 students and teachers, mainly from Berlin and Brandenburg, visit us.
What does the Life Science Learning Lab offer?
Claudia Jacob: We have a total of six laboratories in which we offer more than 20 experimental courses for schoolchildren and secondary school students. The courses cover topics such as molecular biology, cell biology, neurobiology, chemistry, radioactivity and ecology. We are one of the few student labs in Germany where young people can conduct experiments with CRISPR-Cas9. We also offer experiments for elementary school kids and, in our research garden, even for small children of kindergarten age. In addition, we have working groups in which students can learn about careers in the life sciences and do experiments on things like biodiversity, 3D printing and natural science phenomena. There are also vacation courses that enable young people to get acquainted with lab work, and which include a tour of a real research lab and a chance to talk with scientists.
Creating understanding, generating enthusiasm
So you are promoting, so to speak, the life sciences to young people?
Claudia Jacob: Our aim is to get children and young people interested in the life sciences and, ideally, get them excited about these subjects. And yes, we do offer advice on study and training options. Not everyone has to go to university. There are many traineeships here on campus. In addition to biology and chemistry lab technicians, you can also become an animal keeper, an IT specialist for systems integration, a medical laboratory assistant or an office administration clerk. For one project, we portrayed an animal keeper who enthusiastically explains how important her job is for scientific research and how highly animal welfare is regarded in the campus's labs. Young people can also complete a Voluntary Ecological Year at the Life Science Learning Lab. This allows them to find out if a scientific profession is right for them. But our work with young people goes beyond that.
In what way?
Claudia Jacob: As part of the Collaborative Research Centre "Scaffolding of Membranes: Molecular Mechanisms and Cellular Functions" (SFB 958) – the spokesperson is Prof. Stephan Sigrist of Freie Universität Berlin (FU) – there is a subproject on public relations headed by Prof. Petra Skiebe-Corrette and Prof. Dirk Krüger, both also of the FU. The Life Sciences Learning Lab and the NatLab of the FU are involved. PhD students in SFB 958, FU students studying to become teachers, schoolchildren, schoolteachers and interested members of the public can participate in the project to learn how science communication works. The PhD students are creating short videos for this purpose. In another subproject of SFB 958, the research lab of Prof. Oliver Daumke of the MDC is developing an experiment on the crystallization and X-ray structure analysis of membrane proteins. This experiment will be integrated into our existing neurobiology courses for schoolchildren as well as those of the NatLab at the FU. The videos will help the kids gain insights into membrane research.
Teaching the teachers – and TV editors too
The courses of the Life Science Learning Lab are not just targeted at schoolchildren?
Claudia Jacob: No. We also offer continuing education courses and lectures for biology and chemistry teachers. We are currently experiencing a surge of interest, especially because of the shortage of teachers. In addition, our Life Science Learning Lab Academy offers further education opportunities for life science professionals. These feature courses on topics ranging from PCR technology and good clinical practice to refresher courses for project managers and biological safety and patent law officers. One course covers what career paths are available in science. The lecturers come from the MDC, the FMP, and sometimes from business and industry.
That's quite a lot.
Claudia Jacob: But that's not the whole of it. Film and television have started turning to us as experts. We recently received an inquiry from ZDF, a German television network, about vaccine production. The editors wanted to know whether they had portrayed the laboratory situation correctly. I was very glad about this! I always get annoyed when I see labs on TV where glass flasks bubble, hiss and steam, since this has nothing to do with reality.
Do you regularly work with scientists at the MDC?
Claudia Jacob: Of course, and we want to intensify our work with them. The ideas and impulses from the research labs are very important to us. For instance, when we cover the topic of Alzheimer's disease in the neurobiology course, it's great that Prof. Thomas Willnow is able to give me a section of a brain specimen. Other times a nice story is all we need.
Personal stories make kids more receptive to the topics
Can you give an example?
Claudia Jacob: Stories that help us illustrate the research in an interesting way. For instance, we know that Prof. Willnow originally comes from cardiovascular research and stumbled onto the topic of Alzheimer's more or less by chance. Today he is an expert in this field. Students usually find it very exciting to hear personal stories like these.
Has the coronavirus changed things at the Life Science Learning Lab?
Claudia Jacob: Now, as a result of the lockdown, we often deal with young people who have never seen the inside of a lab or held a pipette in their hands. We also offered video experimental courses for the first time during this phase. It was a big experiment for us too. We had to rearrange the whole lab, as it was no easy task to find space for the lighting and the camerawoman. A colleague did the experiments at home, joining us virtually via video conferencing. That was an exciting experience. But I'm very glad that our courses are being held again on campus in our labs. Face-to-face encounters are simply better.
Imparting scientific knowledge is more important than ever
Do you get feedback on the courses?
Claudia Jacob: Many students tell us that we are better equipped than the universities. We're a bit proud of that. When I joined the Life Science Learning Lab, it wasn't like that. We applied for lots of grants and financed better equipment that way. We often hear from parents that the research vacation programs, which we also offer for the children of campus employees, were a great experience for their children – that makes us very happy of course. Then there are the many teachers who have been coming to us with their pupils for years. But we often see the same young people more than once, too. After a course, it is not uncommon for pupils to ask if they can do an internship with us to prepare for the presentation exam in the tenth grade. We are happy to arrange this for them. For instance, we once had a pupil who wanted to use microscopic analysis to determine which starch – corn, potato or rice starch – was most suitable for ecological diapers. Rice starch proved to be best suited. I also hear time and again from the staff at our training center that most of the applicants had been to the Life Science Learning Lab as schoolchildren. I assume that means they liked it here.
What do you especially like about your work?
Claudia Jacob: It's important to me to teach young people to be scientifically literate – especially today when there are so many science skeptics out there who are offering up their own invented truths on the internet. For many people it is very difficult to distinguish between real facts and so-called alternative facts. I hope that I can help in this respect.
Jana Ehrhardt-Joswig conducted the interview.
First published here https://www.mdc-berlin.de/news/news/science-you-can-touch
Source: Max Delbrück Center for Molecular Medicine in the Helmholtz Association (MDC)
Science you can touch
News

Buch Berlin
Starting up with highly promising immunotherapies
OMEICOS Therapeutics Provides Update on PMD-OPTION Phase 2a Clinical Study Evaluating OMT-28 in Primary Mitochondrial Disease
The thrill of science
Events

Buch Berlin
09.10.2023, 09:00


Explore Precision Medicine Event im Futurium

Das Gläserne Labor beteiligt sich am 9. Oktober 2023 am Explore Precision Medicine Event im Futurium mit Workshops und Präsentationen.

more ...