Orientation to Career and University Studies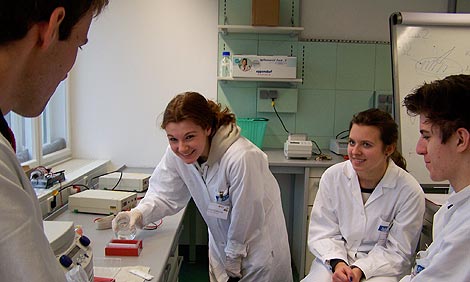 Offers
The Life Science Learning Lab offers several one-week intensive lab courses in molecular biology and biotechnology that provides optimal preparation for career and university studies. The courses are recommended for all those who want to study biotechnology, biology or molecular biology and who need a preliminary internship as prerequisite.
glaesernes-labor.de/de/fit-studium
News

education
Calling all young STEM talent
The 57th edition of the "Jugend forscht" competition will soon kick off under the theme "Lass Zukunft da." The MDC is once again co-sponsoring the search for tomorrow's scientists – this year to be he...
more ...
Events

education
04.10.2021, 09:00


Epigenetik und die große Frage: Beeinflusst die Umwelt unser Erbgut?
08.11.2021, 09:00


Weiterbildungskurs: Fachkraft für Molekularbiologie (TÜV) vom 8. - 19. November 2021
09.11.2021, 16:00


Vortrag: "SARS-Cov-2-Forschung: Zellveränderungen bei Infektion und daraus entstehende unterschiedliche Krankheitsverläufe"